The endless possibilities of impossible salt
This summer, Aarhus University will welcome Professor Anja-Verena Mudring when she joins the Department of Chemistry. Professor Mudring is one of the world's top researchers in the field of materials research. She is one of the leaders in materials development for energy conversion, and she has made a particularly prominent impression in the field of ionic liquids, which may help sustainable technologies for green energy in the future.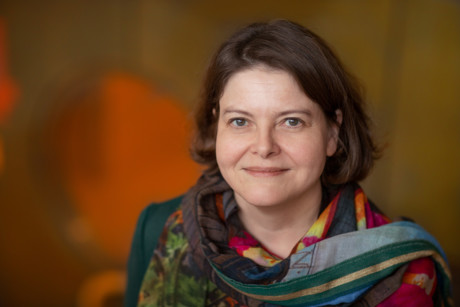 It all got off to a somewhat unexpected start when the Teams meeting began and the German-born Professor Anja-Verena Mudring appeared on screen from her office at home in Stockholm. "Hello! Nice to meet you all," she said in slightly broken and halting Danish, to the great surprise of this writer. With a grin, the chemist explained that she had spent some time on the west coast of Jutland when she was young. As a child on holiday, and later as a young chemistry student, she would take long walks along the windy beaches to clear her mind.
The language has stayed with her ever since, she explained. At least a little.
Since she completed her degree, she has refined and developed her skills and abilities, and her research into new materials has brought her to the forefront of her field over the past few years. In August, Anja-Verena Mudring will take up her position as a professor at the Department of Chemistry at Aarhus University. This has been made possible on the basis of a grant from the Novo Nordisk Foundation RECRUIT programme.
Impossible salt
The foundation for her career was laid with a degree from the University of Bonn in 1995. She then built on this with a PhD from the Max-Planck Institute in Stuttgart. She has since worked at the Ruhr University in Bochum, Germany, where she headed the materials research group and established a Marie Curie training network on luminescent materials (LUMINET) and founded a European COST network for research on ionic liquids. Her career then led her to the United States, where she helped establish a new research institute for critical materials for the US Department of Energy.
Anja-Verena Mudring is most well-known for her work on ionic liquids, which is based on her adage of combining theory and practice in order to design new materials with energy-related potential. It was during her PhD, which focused on solid matter chemistry, that she first encountered the 'impossible salt' as she glibly refers to the subject of her research.
"Ionic liquids are a bit weird for a chemist, and that's what originally attracted me. They have the same structure as table salt but they're liquid at room temperature. They have positive and negative charges, and can therefore be included in almost any type of technology. The potential applications of the material are huge, and that quickly became the focus of my research," she explains.
Choose a property
Professor Anja-Verena Mudring's research focuses on the developing and synthesising smart materials using ionic liquids to design and develop environmentally friendly and sustainable technologies for energy exploitation. They represent an alternative to a number of flammable or hazardous materials, since ionic liquids are not heated and do no emit vapours from volatile components. It's just salt.
"The potential is almost limitless. These liquids are made of something that's very similar to ordinary salt, but they can be developed to combine almost any type of property or function. There's almost no property that
can't be developed: it can light up or be developed to capture heat for energy conversion. In reality, you can choose any property you like once you get to know the material. The research group and myself have been able to do this, and that means we can use the properties like Lego blocks to create customised solutions for a wide spectrum of areas as part of the green transition," says Anja-Verena Mudring.
Top researcher joins Aarhus University
Anja-Verena Mudring will continue her work in this area and others when she takes up her position as a professor at Aarhus University in August 2021. The Novo Nordisk Foundation has made this possible via the RECRUIT programme, which aims at strengthening Danish research within a number of critical research fields in natural and technical sciences.
The programme aims at attracting talented and leading researchers from abroad who can bring new ideas, specialist knowledge and access to international networks to Denmark. This initiative can be vital to the development and advancement of a research area. And this is very much the case with Anja Verena Mudring:
"Anja-Verena Mudring researches into the synthesis and development of new smart materials, for example for the green transition. Her approach to materials research is inspirational and very promising for materials development. What's more, she'll be bringing brand new methods to Aarhus. She's a world leader in the use of ionic liquids in chemistry, and her ground-breaking research helps in the manufacture of materials with broad and sustainable applications.
I'm proud that we can now welcome her as a professor at the Department of Chemistry. I'm very grateful to the Novo Nordisk Foundation for their grant, which has made it possible to hire Professor Mudring who I am very much looking forward to working with," says Birgit Schiøtt, department head at the Department of Chemistry.
A melting pot of talent and opportunities
One of her focus points at Aarhus University will be work at the interdisciplinary research centre, iMAT, where her expertise will contribute to ongoing efforts to create new materials that match the needs of society, including more efficient energy storage. Another focus point will be related to research at the iNANO Research Centre, where Professor Mudring will develop new chemical methods to produce materials at nanoscale.
Interdisciplinarity and the many opportunities will be at the core of her work at AU. Nanotechnology and nanomaterials could be combined and developed, and then used for sustainable energy and power-to-X, for example. There are also possibilities within the transport sector, where ionic liquids can be developed as lubricants to reduce friction and abrasion. The possibilities are endless, says the professor:
"We're living and working in very exciting and challenging times, with ever-growing demand and needs for sustainable technologies. The evolution of materials research has now reached a point where we can develop new properties with targeted purposes via the work going on at universities and elsewhere. I'm looking forward to being part of this work at Aarhus University, which has very strong academic environments and prominent research groups.
But I'm especially looking forward to being part of the melting pot of talent and different nationalities among my colleagues and students. I've always enjoyed the zeal and inventiveness prevalent among young talents. In many ways, it reminds me of ionic liquids, because students too can do anything through their work and by finding new collaborations. I find it very inspiring."
The move to Denmark also adds a little icing to Anja-Verena Mudring's career:
"I'm also looking forward to returning to the west coast of Jutland. Walking along the beach and looking out at the ocean often inspires new ideas, and the wind on the west coast has always acted as a kind of catalyst for my ideas."