Life with lockdown
Working and studying has been different in just as many ways as there are employees and students, and together, each in their own way, they are keeping the wheels of Nat running. Separately. Meet some of them here.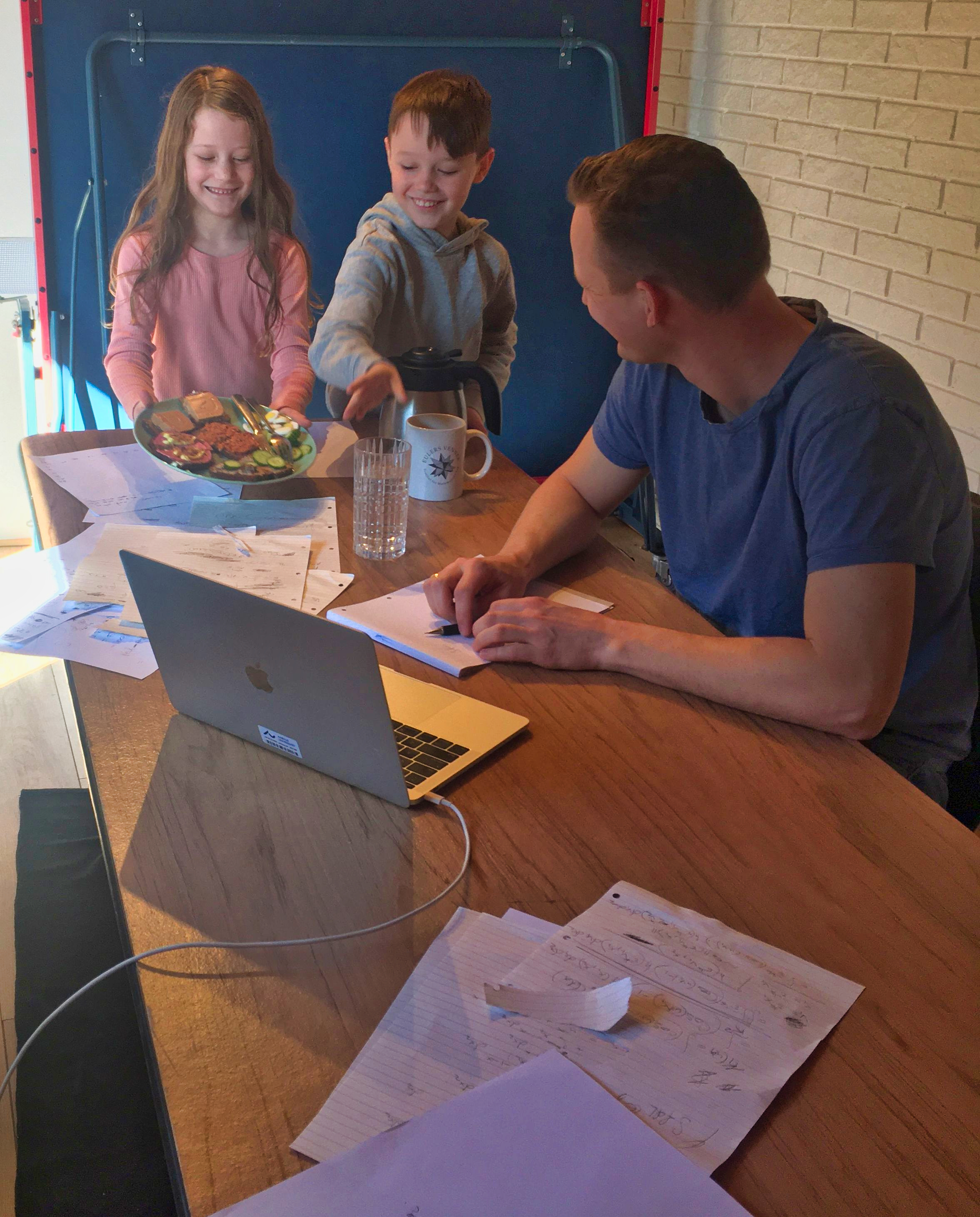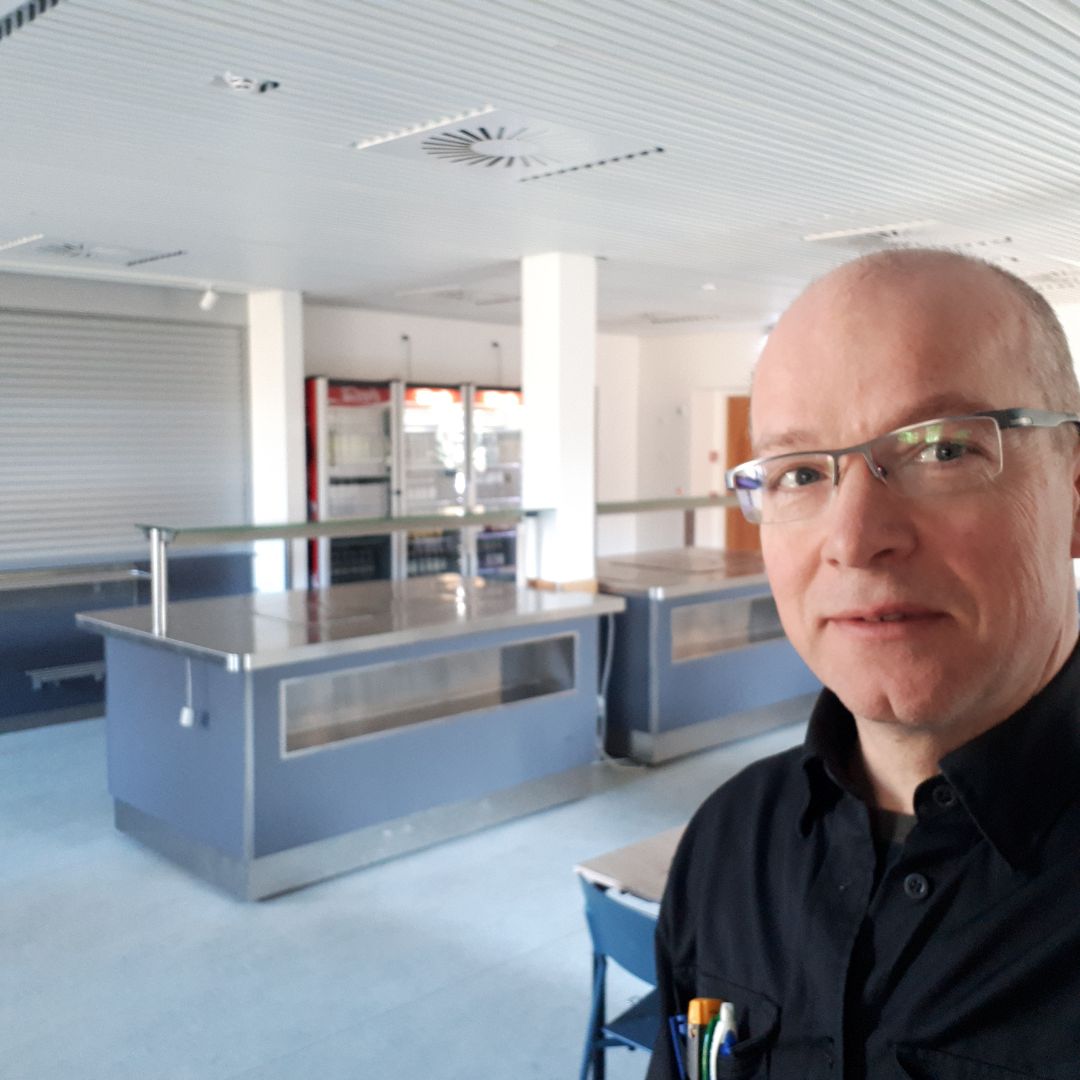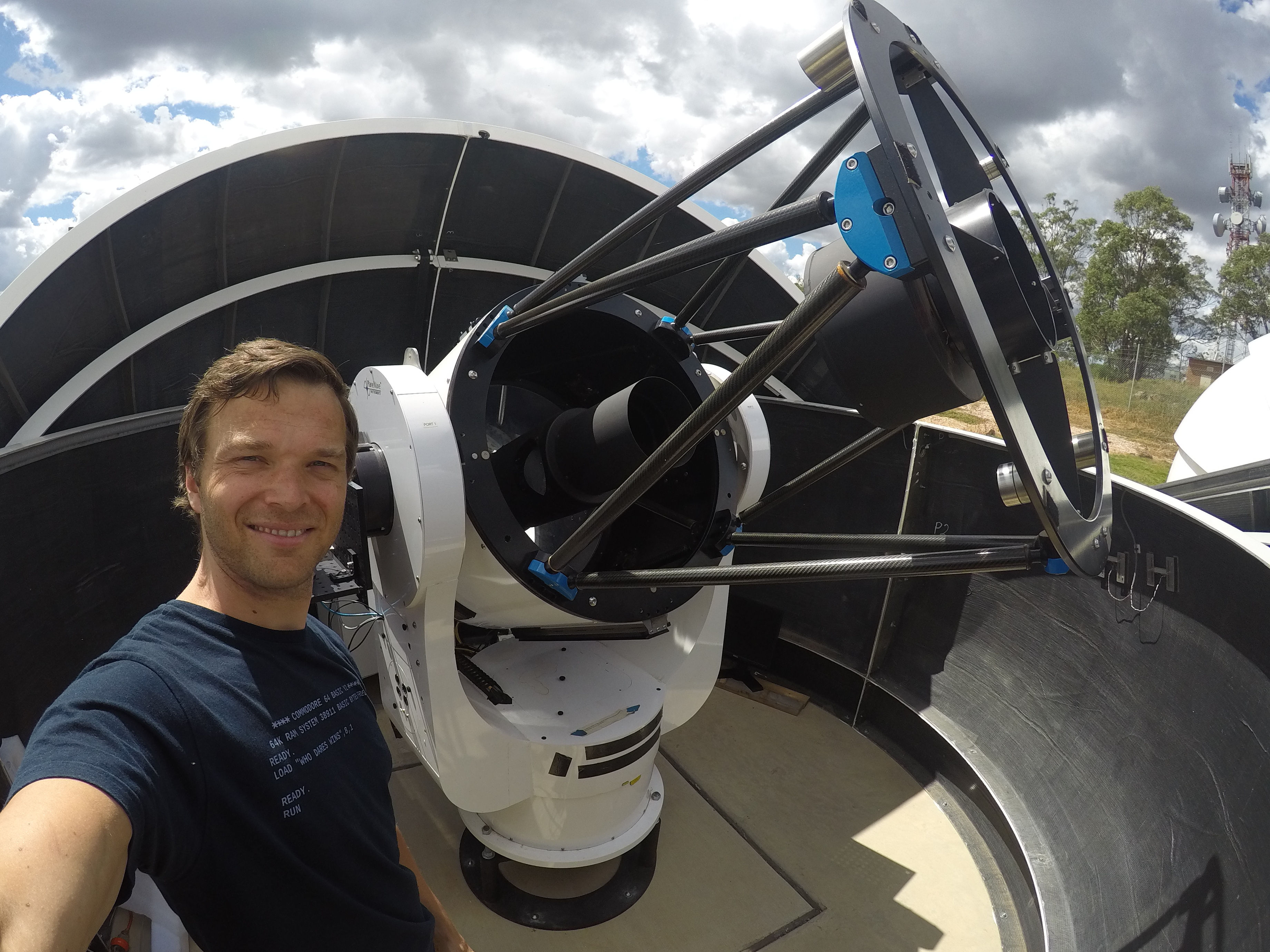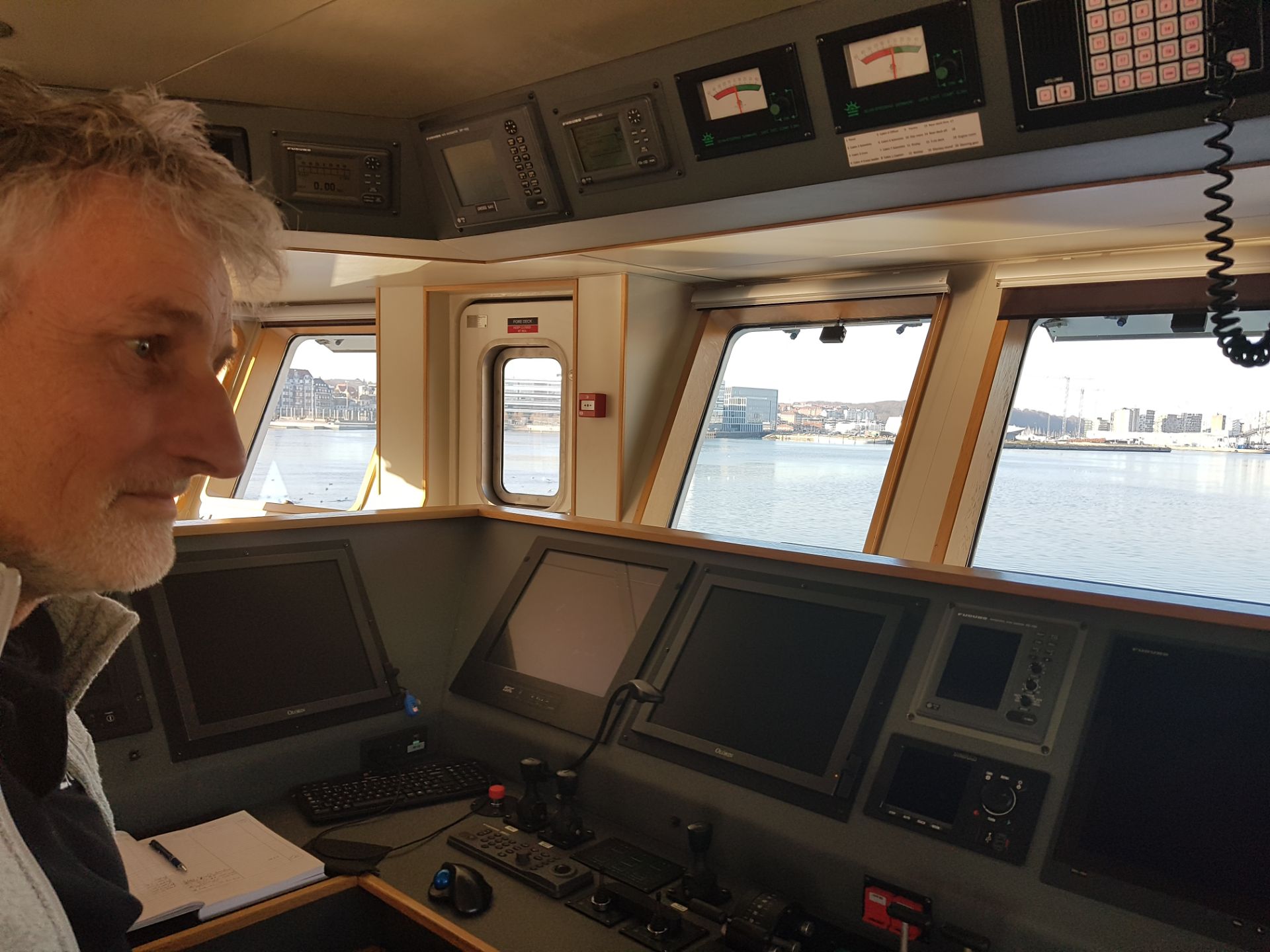 Denmark and the rest of the world have more or less closed down, and for AU staff, the lockdown period can provide many challenges and opportunities. Many have to move their working life into their homes, where there are no colleagues or study groups, but perhaps toddlers or loneliness to tackle. Others experience frustration or concern because planned activities cannot be carried out on the research vessel or in the labs. There are also creative solutions and helping hands to support and perhaps find cracks to let in a little light.
Overall, the working day has been many different things for just as many employees and students. A small number have allowed us to look over their shoulders.
Corona research in shifts
Daniel Miotto Dupont is one of the few AU researchers who can continue his research at one of the university's laboratories, even during the lockdown.
He is part of Professor Jørgen Kjems' research group, who, together with researchers at Health, the University of Copenhagen and Statens Serum Institut, have received a grant of DKK 25 million from the Carlsberg Foundation to research the coronavirus. Or more specifically: To develop methods for diagnosis, treatment and prevention of infections with the new coronavirus, SARS-CoV-2.
Exceptionally, the university has given the go-ahead to open a laboratory at the Interdisciplinary Nanoscience Centre (iNANO), where Daniel Dupont and three research colleagues have now introduced research in shifts.
"We began right away, planning and preparing from our offices at home. We were notified of the grant on 19 March, and on Monday 30 March, we started in the laboratory. We're working in two-person shifts at the lab, because you can't be alone in the laboratory for safety reasons, and because it's a more efficient use of time – both in the laboratory and at home, where we all have families to be cared for," says Daniel Dupont.
The four researchers' part of the project is to develop a new type of aptamer. These are small DNA-like molecules, a little like antibodies, and they can bind to the surface of the coronavirus and deactivate it. The goal is to use aptamers to test whether someone is infected with the new coronavirus and to limit infection.
No web service for spiders
Marie Rosenstand Hansen cannot do her job from home. This is already difficult for a laboratory technician, but the special thing about Marie's job is that she looks after creatures that may well have a web connection, but they're not on the World Wide Web. The creatures are the up to 2,000 spiders at Spiderlab at the Department of Biology, and the many insects that the spiders feed on.
"I feed the spiders flies, cockroaches, grasshoppers and crickets, and I give them water with a spray. I also look after and feed the animals used as feed themselves – we breed cockroaches, fruit flies, crickets and grasshoppers and we have fly pupae from external suppliers. The flies don't need feeding, because they're eaten as soon as they hatch," says Marie.
Marie makes sure that the social spiders, which originate from South Africa, are kept alive during the lockdown. The spiders are used for research into evolution, and the researchers will be using their DNA for genetic studies of several spider generations when the university opens again.
"The spider young eat their mothers when they get big enough, and so as not to lose the DNA of the mothers, I take the mothers out and put them in the freezer before it is too late. Mating took place before the lockdown, and we 'rescued' the fathers from being eaten by the mothers by putting them in the freezer too," she says.
Marie Rosenstand Hansen doesn't do all the work alone. Spiderlab needs looking after every day, but as Marie also has a family and home schooling – as well as her own bird-eating spiders – to take care of, she alternates shifts with a colleague, so she only works every other day.
"The management has been extremely responsive to my need to combine my work with my private life. So I'm also allowed to come here in the evening," she says.
The mathematician has worked it out
Associate Professor Andreas Basse-O'Connor from the Department of Mathematics can work at home full time. At the moment, he spends most of his time on research, because the course he was supposed to teach is being taken by a colleague as distance learning – something that Andreas has no experience with.
He is currently revising an article on asymptotic properties of stochastic processes for re-submission to a journal. As a mathematician, he considers himself fortunate because he does not have laboratories or animals to take care of, so that he can do most of his job from home. The family house in Tilst has an annex which the family normally uses for table tennis, and Andreas has arranged an office with a desk, laptop, a big pile of papers and a large waste-paper basket.
"I can work here fairly undisturbed. We have three children of 3, 6 and 8 years old, and they sometimes come out with lunch or snacks for me. My wife and I share helping the two eldest with their school work, and not surprisingly, I help in particular with mathematics. We've gradually found some fixed routines with fixed agreements about when we're working and when we're off. It's all going very well. But I miss my colleagues," he says.
Live from the attic!
Had anyone two months ago said to Bo Holm Jacobsen that one of Aarhus University's visions was for all the teaching to be via Zoom over the course of two years, he would have been sceptical to say the least. But now the head of the degree programme at the Department of Geoscience can see that just this has happene - and in only about three days. Every day, he transmits is live from his store room, where he teaches students via the Zoom conferencing program, and he is very pleasantly surprised by how well the transition from physical to online teaching has gone. Moreover, it has almost become easier to arrange meetings with busy colleagues.
Bo Holm Jacobsen was quick to align expectations with his students so that they could keep to the syllabus, and even during Mette Frederiksen's press conference on 11/3, he was calling colleagues to find out how they could keep up the pace of teaching. But he still has some concerns: one of the most important being field studies, which are a key part of Geoscience degree programmes. Another concern is the alienation and despondency some students are beginning to experience during the intense isolation as we are witnessing at the moment. In this respect, short daily conversations with thesis students, for example, can provide direction and a renewed enthusiasm to study. This is something they are working on, he says.
Like a ghost town
Even though most of the students and employees have been sent home, there's still life in some of the buildings around Aarhus University, where, for example, Allan Madsen from Facility Management is responsible for building maintenance and operation. He is part of a nine-man team that has split the buildings between them, so that they can all work their way from the bottom to the top of each building every single day.
It's strange walking around the corridors and in buildings that are normally teeming with people. Now it's just quiet - even the Chemistry Cafeteria is quiet. It's a bit like walking around in a ghost town, he says with a twinkle in his eye.
But even though times are strange, it's also a very good opportunity to get some of the big jobs done that under normal conditions might cause a nuisance for many users of the buildings. For example, Allan Madsen describes how they're in the process of installing LED lights in the lecture theatres, and how several other major projects are in full swing that would normally prove to be quite disturbing for employees and students alike.
Race against infection
In February, Mads Lund Andersen left the Department of Physics and Astronomy for Australia to set up a new observatory in the SONG project. At that time, Covid-19 had not reached Europe, and there was no reason to think that he and his colleague Frank Grundahl shouldn't go. Before leaving Denmark, the team had packed and despatched everything they would need at the SONG Observatory.
Mads' brother lives in New Zealand, and a weekend family visit meant that forced quarantine had just been introduced in Australia when he returned. Fortunately, so much of the necessary hardware had been installed in the new telescope that he could spend the two weeks in quarantine dealing with many of the software tasks that had otherwise been pushed aside by other tasks.
Now his quarantine is over, and he is once again setting up the robot telescope. It feels a bit like a race against time in Australia, says Mads, because the team can sense how COVID-19 is getting closer and closer to where they're working. However, they're hoping that they'll be able to continue and finish before the infection forces them indoors.
Mads also explains that the spread of the corona infection has already had a negative impact elsewhere in the SONG network, because they have had to shut down the telescope on Tenerife. The Spanish authorities have introduced restrictions due to the virus, which means that emergency personnel cannot get to the telescope if an acute technical challenge arises. It has been reported that they may be able to open again on 9 April.
Like seamen in a cage
For marine biologist, Captain Torben Vang, the lockdown period is an unexpected, and slightly frustrating, break in a busy calendar. Under normal conditions, this would be peak season for the research vessel Aurora, with a bulging order book and cruises for a large number of projects and experiments. But all expeditions have been cancelled now because of the actions by the authorities to combat the coronavirus. Torben Vang explains that the cancelled expeditions can't simply be postponed to later in the year, because they have to be conducted at specific times of the year.
So, even though a ship is in many ways isolated at sea, as the captain says, Aurora is now docked at the Port of Aarhus where four crew members are taking turns at looking after her. A strict hygiene protocol has been introduced and all surfaces that have been touched are cleaned with sanitizer daily. During the lockdown period, the administrative tasks normally squeezed in between the many spring expeditions are also being dealt with, and we're making the most of the quiet time to replace and upgrade the ship's equipment. So that Aurora and its crew are ready to cast off as soon as they're given the go-ahead.
PhD celebration postponed, but not cancelled
Katrine Domino from the Interdisciplinary Nanoscience Center is one of the PhDs who have recently defended their project online, far away from Aarhus University's lecture theatres. She decided to do so, even though she could have postponed the big event.
"For me, it was important not to postpone my defence because of the lockdown. I've been offered a job, and I don't want the defence to jeopardise my position when I start my new job after Denmark opens up again," says Katrine Domino.
Katrine has this advice for others in the same situation:
"If you can decide yourself whether your defence is to be postponed or held online, you also have to decide whether you want to postpone your celebration. You may well feel empty and slightly strange on the day itself. I did, but you can always hold your reception later, just as I'm doing."
Katrine's family, friends and colleagues are also aware that the celebration has not been cancelled – just postponed:
"I've met a lot of understanding from the guests I had invited to the defence and reception before the coronavirus came to Denmark. They're supporting me, and of course they're ready to celebrate at a later date," says Katrine Domino.