Professor Signe Normand receives the Elite Research Prize for 2021
Professor of biology Signe Normand from Aarhus University is one of the five recipients of the Elite Research Prize for 2021. There are also Elite Research travel grants for two PhD students from the Department of Computer Science and Department of Bioscience. The awards will be presented at an event at the Ministry of Higher Education and Science on 10 August.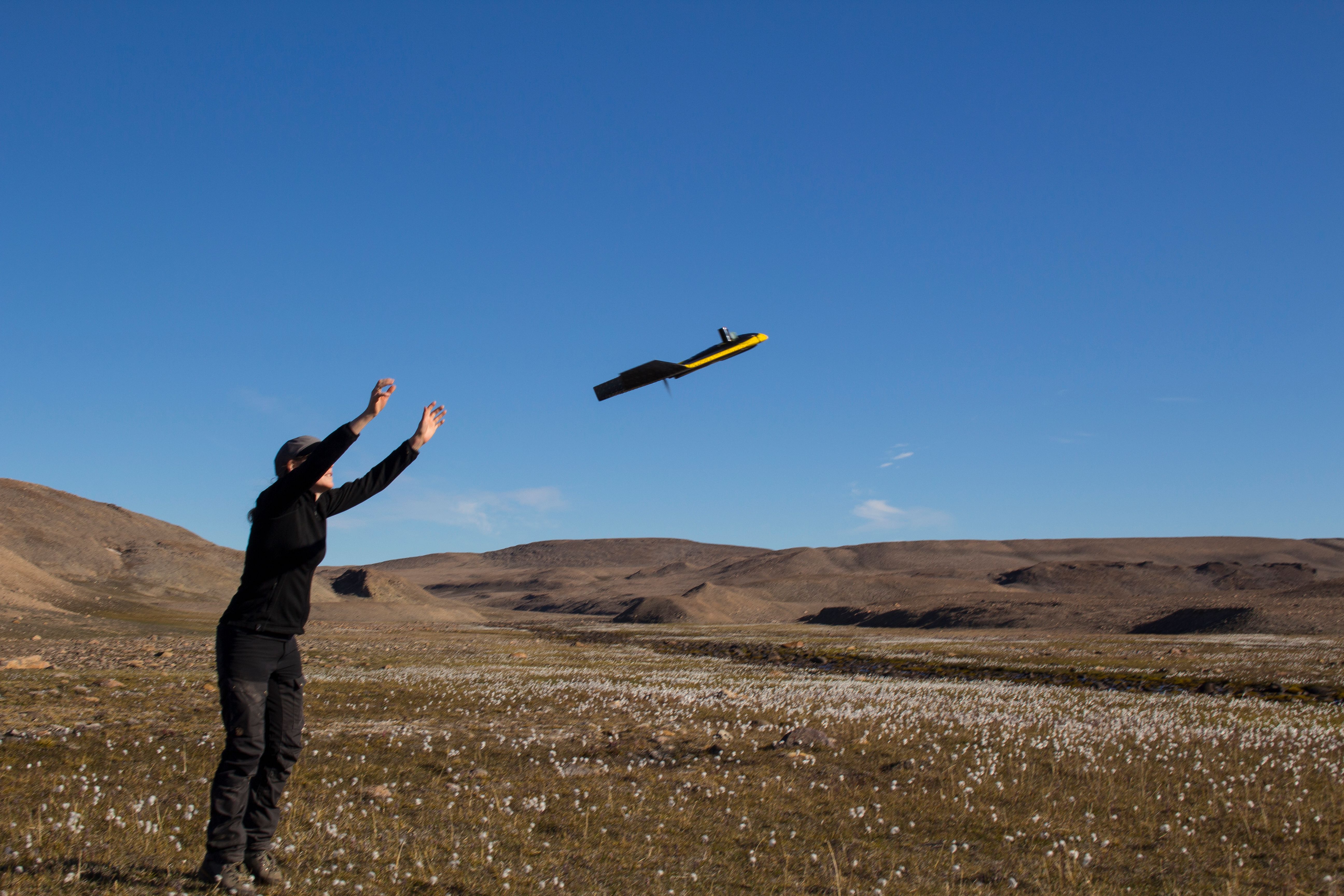 Signe Normand has received the Elite Research Prize for her studies of the spread and dynamics of plants over time and space using original and innovative methods.
Her research is about creating an overview of how climate and environmental changes affect different plant species over time, space and scale.
And overview should be taken absolutely literally.
She sees plants in a different light and from different angles than we others do:
> From space through satellite photos and measurements using different wavelengths of light
> From the air through sensors on aircraft and drones that she launches herself
> From microscopes in laboratories
> And from the ground, where she crawls around between plants in the Danish countryside and the Arctic tundra on field studies (she has led several long-term expeditions in Greenland).
She also manages to process and integrate these very different data to generate ground-breaking new knowledge that she uses to develop new, more realistic models; models that can predict climate-related changes faced by many areas in the world.
Linking methods and data
Facts:
Each year, the Ministry of Higher Education and Science awards five Elite Research Prizes to outstanding early career researchers of an international standard, and up to twenty Elite Research travel grants to some of Denmark's brightest and most talented researchers and research students. This year the number is 15 travel grants.

The Elite Research Prize includes a cash prize of DKK 1.2 million. DKK 200,000 is a personal award of merit, while DKK 1,000,000 is for research activities.

The Elite Researcher travel grants total DKK 200,000 and are awarded to help exceptionally talented PhD students take extended study periods in the world's top research environments.

Please read the press release from the Ministry of Higher Education and Science here.
"Throughout my career, I've always linked different methods together. At one and the same time, I create a bigger and more detailed picture when I cut bushes in Greenland, measure growth and analyse cell structures over time, and then connect this data with large-scale data from satellites, aircraft and drones. And I'm very honoured to receive the Elite Research Prize," says Signe Normand.
In 2016, she set up the UAS4Ecology Lab, a drone-ecology laboratory, and she is the head of part of the national infrastructure for using drones in research.
"I use drones and satellite information to plan fieldwork so that the tests taken during fieldwork are representative, and to combine information to understand whether the responses of individual plants can be more widespread," she explains.
Future-proof biodiversity
Since 2020, she has headed the SustainScapes research centre, which aims to find research-based solutions to how we can future-proof biodiversity.
"The latest thing is greater use of structural information from lidar (3D laser scanners on drones) at different scales and high point resolution in connection with experiments on Mols, in Switzerland, and across the whole of Denmark. This helps to identify forests of special natural value and to find sites with a high level of biodiversity. We can use this knowledge to prioritise how we use our landscape as the population increases and the climate changes," she says.
In interdisciplinary studies with anthropologists and archaeologists, she has generated new knowledge about how the presence of human beings has affected plants and areas.
Elite Research travel grants 2021:
PhD student Marius Hogräfer, Department of Computer Science
In his PhD project, Marius Hogräfer is investigating possibilities for computers to learn about the data that a user is interested in by focusing calculations on the part of the data that the user thinks is important. The objective is to make sense of our data faster, instead of having to wait hours for calculations on the full dataset.
PhD student Ane Pastor Rollan, Department of Bioscience
In her PhD project, Ane Pastor Rollan combines knowledge about the physiology, spread and proliferation proliferation of marine species using advanced 3D agent-based models (ABM's), compared with genetic data for marine key species like mussels and eelgrass.
---
Further information:
Signe Normand is 41 years old and has published more than 60 scientific articles, many of which have been published in leading journals within her field of research. She has been awarded many and prestigious research grants, e.g. a Sapere Aude research director grant from the Independent Research Fund Denmark and most recently a Challenge grant of DKK 60 million from the Novo Nordisk Foundation with focus on biodiversity and production in Denmark. She has also received a number of awards and honours, both nationally and internationally, for her ground-breaking research. For example, she received the L'Oreal Award for women in research, and she is a member of the Young Academy at the Royal Danish Academy of Sciences and Letters.
In 2019, Signe Normand was appointed as a professor at Aarhus University, where she has headed her own research team for many years and has been a mentor and supervisor for many postdocs and PhD students. She is also a valued teacher.
Contact:
Professor Signe Normand,
Department of Biology
Aarhus University
Mail: signe.normand@bio.au.dk
Mobile: +45 2371 8009