Aarhus University signs cooperation agreement with the China Geological Survey
A delegation from the China Geological Survey visited Aarhus University on 10 April to sign a cooperation agreement (Memorandum of Understanding) to expand research collaboration within bioscience and geoscience.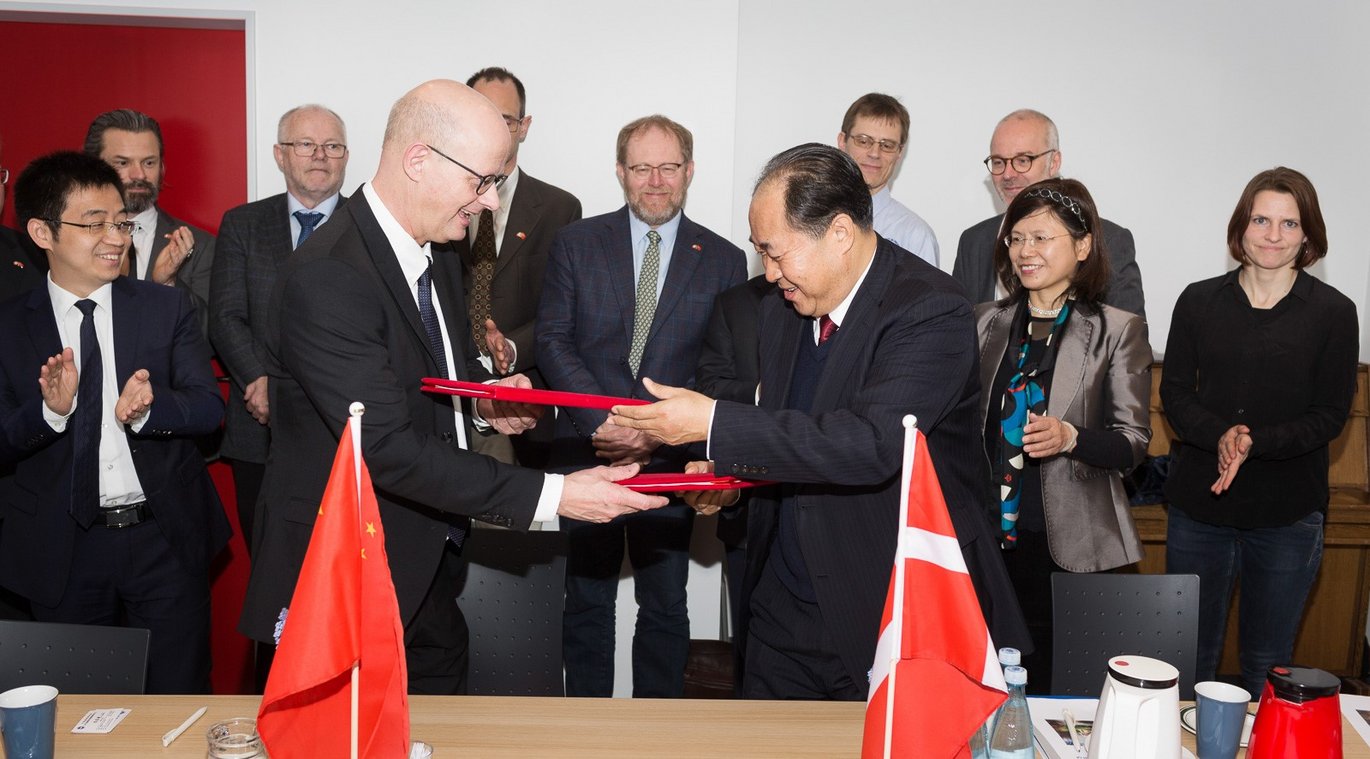 On Tuesday, 10 April, the director of the China Geological Survey, Wang Yan, as well as five of his department directors, visited Aarhus University to sign a Memorandum of Understanding (MoU) and a more specific project agreement with Aarhus University.
The background to the agreement is that, over the past 10 years, Professor Hans Brix, head of department at Bioscience has had fruitful research collaboration on substance conversion, including carbon sequestration and greenhouse gas emissions in coastal marshes and swamp areas.
The China Geological Survey and AU want to use the MoU to intensify and expand cooperation to other specialist areas at Science and Technology at the Department of Bioscience and the Department of Geoscience. These areas include cooperation on research into life in the deep biogeosphere, mapping and monitoring coastal waters, mapping and modelling groundwater resources, geothermal energy, and the use of rocks to store energy.
At the same time, the Department of Bioscience concluded a specific project cooperation agreement to establish a global infrastructure in coastal marshes and swamp areas to study the impact of global climate change on vegetation, carbon conversion, greenhouse gas emissions and sedimentation in coastal areas. In addition to Aarhus University and the China Geological Survey, the U.S. Geological Survey is also part of this global network.
As a direct result of the agreement, two Danish PhD students from the Department of Bioscience will be in China for a year to participate in studies of the vegetation and carbon balance in the large deltas of the Yellow River and the Yangtze River. The two PhD students will be leaving in July this year.
Further collaboration was discussed at the meeting in Aarhus, including collaboration within mapping and modelling of groundwater resources and life in the deep biogeosphere.
The China Geological Survey is a large organisation with 27 branches in China. The Geological Survey has approximately 20,000 employees and an annual turnover of around DKK 15 bn. (EUR 2bn.).
For more information, please contact:
Professor Hans Brix
Department of Bioscience, Aarhus University
Email: hans.brix@bios.au.dk
Tel.: +45 2899 2031